Xiaomi Mi Pad 7.9 Review - Solid Tab
Xiaomi did well with the
Mi Pad 7.9
and they know it. Very few compact, affordable tablets end up as solid as this. They need to travel light (and stay within budget) but compromises weigh them down. Well, not the
Xiaomi Mi Pad 7.9
.
Photo by: liliputing.com
It's got a different kind of problem - at least from a certain perspective. To be fair, it takes a great deal of confidence to go after the top dog right from the very first try. And we think most of Xiaomi's confidence is well founded.
It's just that trying so hard to look like the iPad doesn't feel right, not where we come from. True, it will cost you much less and offer similar, and even superior specs, but the
Mi Pad 7.9
does get carried away trying to impersonate the iPad. On the other hand, this may be a valid strategy in China and Asia Pacific where - we should not forget - this device is mostly meant for.
This by the way is easy to spot in our device, which was handed to us stripped of Google services and an interface that borrows heavily on iOS to begin with. Yep, our review unit is one of those you can get only in China, where Android isn't exactly what we're used to.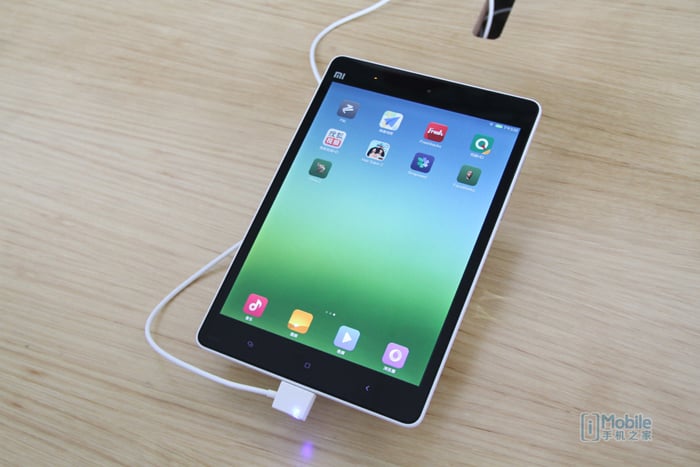 Photo by: gizmochina.com
There's no app drawer for starters and most of Google's apps and services would've been replaced by their Chinese equivalents. By the way, Xiaomi's business model is no stranger to monetizing online services and customization options.
Good thing the Play Store wasn't a big deal to install, so we got the
Mi Pad 7.9
in familiar shape in no time.
Key test findings:
Build quality is great, but plastic feels cheap, however there is a rich choice of colors
It tends to heat up excessively when under load
The screen is solid, with great contrast and overall, excellent indoors
The battery life is good
Connectivity options are varied, but there is no 3G version
The speakers are loud and clear, we rated them as Very Good
The MIUI interface for tablets takes after Apple IOS even more than the phone version; it's based on the latest Android KitKat 4.4.4 but it's far from the latest MIUI version; it offers rich customization options but not that many proprietary features as other manufacturers
The tablet is fast and responsive with only the occasional glitch here and there, impressive graphics performance
The audio quality is good, especially with an external amplifier
Video player supports every audio and video codec except WMV
The camera is very good for a tablet