HTC One (E8) Review - Travel Phone
The HTC One series has at least one feature it can hang its hat on - premium design. This became absolutely critical with the M8, as the scorching hot flagship was outclassed by its competitors in many other areas - performance and camera being the most obvious.
Photo by: souqmobi.com
There goes the One (E8) - one that has to make do with its seemingly biggest advantage taken away, the aluminum unibody and its slick finish and chamfered edges replaced by polycarbonate. Now, isn't that a recipe for disaster? Especially for a company that's been struggling to regain lost market share, you'd think that moving away from your strongest suit would be a mistake. The
HTC One (E8)
, however, has proven to be anything but.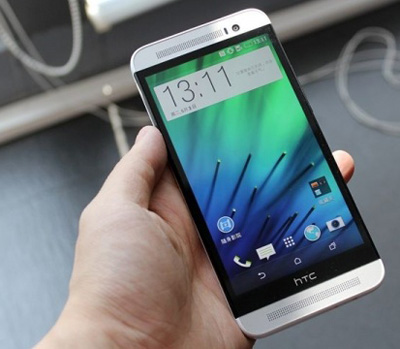 Photo by: topnews.in
While the M8 is still quite a stunner whose only real rival in terms of design is the Sony Xperia Z2, it has proven to have several weaknesses that have since been taken advantage of by the competition. With the M8, HTC chose to stick to its 4MP UltraPixel guns second generation running, despite the lackluster performance. The Qualcomm MSM8974AB Snapdragon 801 chip that the M8 came with has also since been outperformed by competing flagships.
The
HTC One (E8)
solves both of those problems, and solves them handily.
HTC One (E8)
key test findings:
Build quality is solid and functional, although understandably inferior to a metal unibody
The 5-inch 1080p display of the E8 shows the same great contrast and sunlight legibility as the M8's
Battery life is excellent, with better standby and browsing times, but lower 3G calling than the M8
The benchmarks are among the best we've seen from an HTC device, handily outperforming the M8
The still camera performs well and is similar to the ones found on the HTC One mini 2 and the Desire 816
Video quality is good, too. It has a 1080p@60fps mode, but doesn't go as high as 2160p
Audio quality is excellent
The speakers have average loudness
Sub-par video decoder support, and the video player does not support subtitles
We said in the beginning of this review that polycarbonate smartphones depend highly on execution, and the snug fit of the E8s plastic back panel is an example of a well-executed design aesthetic. Of course, some of the premium feel is gone but HTC has the freedom to target a different price segment.
Now, the E8 won't go for as little as half the price of an M8 - far from it. But with a superior battery life, slick Sense 6 interface, and vastly improved camera and processing speed, it has all the makings of a sleeper hit for a company that desperately needs one.
Source
|
Get IT